Events leading up to Six-Day War
The War
First day of fighting. Israel destroys most of Egyptian air force. Jordan, Syria and Iraq attack Israel.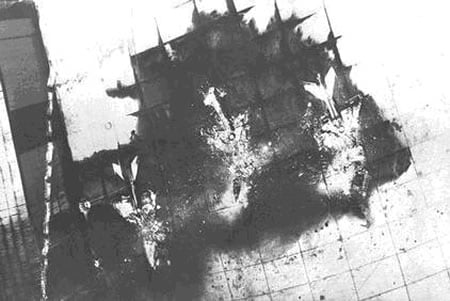 Day 1, June 5, 1967
8:15 am: Israel destroys Egyptian Air Force
Fearing thousands of civilian losses by the Egyptian Air Force, Israel preemptively strikes and destroys 311 Egyptian planes, most on the ground. Thirteen bases are rendered inoperable.
8:30 am: Israel sends message to Jordan, pledging no attack, if Jordan stays out of war
Israel passes message via Chief U.N. Observer Odd Bull to Jordan's King Hussein. Israel promises not to attack if Jordan stays out of the war, but warns that Israel would respond forcefully otherwise.
10 am: Jordan attacks Israel
Nasser tells Hussein Egypt has inflicted staggering damage on Israel. At 9:30 am, Hussein informs his people that 'the hour of revenge has come.' At 10 am, Jordan begins attack on Israel. Over 6000 shells hit Jewish Jerusalem, 900 buildings are damaged, including Hadassah Hospital. Twenty civilians die, over 1000 injured. 'Very heavy machine and mortar fire, probably cannon, continuous in Jerusalem', reported the British consul-general at around 11:30am. (Six Days of War, Michael Oren, 187)
Noon: Syria and Iraqi Air Forces attack Israel.
12 noon, Motivated by Jordan's attack, Syrian MiG's strike Galilee settlements, including Kibbutz Degania, home to PM Eshkol. Iraqi planes fire on communities in the Jezreel Valley and Afula.
12:30pm: Israel strikes Jordanian airfields in Mafraq and Amman.
In response to Jordan's attack, Israel seeks to destroy Jordanian air capabilities.
1pm: Israel strikes Syrian air bases
In response to Syrian air attack, Israel strikes Syrian air bases, destroying 2/3 of Syria's planes, but losing ten of their own.
Photo: Egyptian air force jets lie destroyed on the tarmac by Israeli air force bombing on the first day of fighting.
Second day of fighting. Fighting continues on all fronts.
Day Two, June 6, 1967
2am and throughout day: Massive Syrian artillery barrage on Galilee communities.
Over 250 guns shoot an estimated 45 tons of ammunition per minute on the towns.
5:50 am: Massive Egyptian retreat begins
Afternoon: Lebanon attacks Israel with planes in the Galilee
4:30pm: Israel and Jordan accept terms of U.N .cease-fire, but Egypt and Syria do not.
11:30pm: King Hussein of Jordan orders his troops to retreat, then reverses himself.
Photo: A child's stroller among the debris of a house at kibbutz Tel Katzir demolished by Syrian shelling.
Third day of fighting. Jerusalem taken. Blockade of Straits of Tiran broken.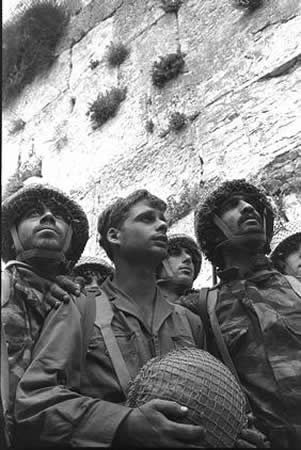 Day 3, June 7, 1967
10am: 'The Temple Mount is in our hands'
Israeli troops gain control over eastern Jerusalem, including the Old City, home of the Jewish Quarter and the holiest site in Judaism, the Temple Mount. Jews had been denied access to these sites during the nineteen years Jordan had occupied eastern Jerusalem despite stipulations of the 1948 Jordan-Israel armisitce agreement. Israel leaves the Dome of the Rock and Al Aqsa Mosque, Muslim holy sites in the Old City, under the administration of Muslim religious authorities.
12:15pm: Israel breaks Straits of Tiran blockade
Israeli forces take control of Sharm al-Sheikh from Egypt. Israel opens the Straits of Tiran to all ships.
Throughout the day: Syria continues shelling Israel's northern communities.
Photo: Israeli paratroopers stand in front of the Western Wall in Jerusalem.
Fourth day of fighting. Israel consolidates hold on West Bank.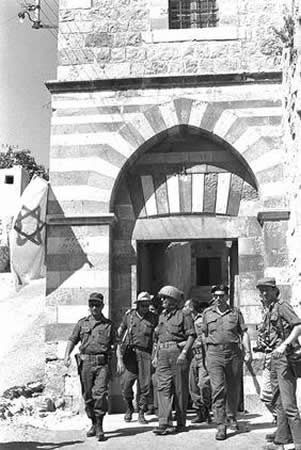 Day 4, June 8, 1967
Israel Defense Forces take control of Hebron and other West Bank towns.
Syria continues shelling northern Israeli communities.
According to American ambassador Barbour, 'Syrian shelling of kibbutzim and settlements in Israel has been continuous and incessant…Some kibbutzim have been completely leveled above ground.' (Oren, 260)
Photo: Defense Minister Moshe Dayan (center) flanked by Gen. Uzi Narkis and Gen Rechavam Zeevy in front of the entrance to the Tomb of the Patriarchs in Hebron.
Fifth day of fighting. Israel and Syria in heavy fighting on the Golan.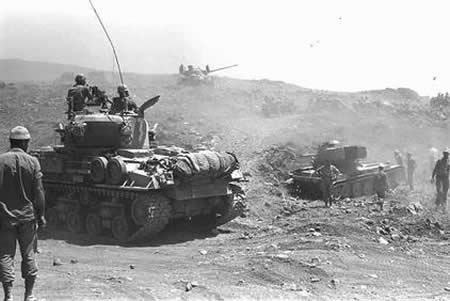 Day Five, June 9, 1967
After first avoiding a ground war with Syria, Israel reverses course due to the incessant shelling and the realization that Israelis living in the north would never be safe if Syria controlled the Golan Heights. While other Arab armies retreated, then-Defense Minister Hafez al-Assad demanded his troops hunker down and 'Strike the enemy's settlements, turn them into dust, pave the Arab roads with the skulls of Jews. Strike them without mercy.
Photo: Israeli tanks during a short stop on the Syrian frontier before going into action on the Golan Heights.
After the War
Arab leaders at Khartoum Conference say no to peace.
September 1, 1967
Israel offers to return most territory (not Jerusalem) in exchange for peace. On September 1, 1967, Arab leaders meeting in Khartoum issue the '3 nos':
No peace with Israel; No negotiations with Israel; No recognition of Israel.
Photo: The three "Nos" –Khartoum, Sudan.
U.N. Resolution 242 creates land for peace paradigm.
November 22, 1967
United Nations creates framework for future peace negotiations. It envisions Israel withdrawing from some of the territories it gained (not all) in the war, in return for recognition by and long term peace with the Arabs. The extent of the withdrawal to be determined in negotiations. (Click Resolution 242 from top menu for more information.
Photo: Abba Eban and Gideon Rafael lead Israel's delegation to the UN after the war. Future PM Golda Meir sits behind Eban and Rafael.
General references
Atlas of the Arab Israeli Conflict, Martin Gilbert, 1993

Foreign Relations of the United States 1964 – 1968, Vol XVIII, Arab Israeli Dispute 1964 – 1967

January 27, 1967 letter from the permanent representative of Israel to the U.N .addressed to the President of the Security Council

March 6, 1967 letter from acting permanent representative of Israel to the U.N. addressed to the President of the Security Council

Six Days of War, Michael Oren, 2002